If your business provides services, this is the section where you can showcase them in detail. Customers can then contact you to request that service.
To edit the services section of your website, log into your Business Hub and click on Edit Website. 
This will bring you to edit mode of your website.   
Then click on the Edit Services tab.

From here, you can add, edit or remove services offered at your business.

Click on either Add Service to add a new service to your website or click on Edit next to an existing service in order to amend the details. 
When adding or editing a service, follow these steps:
1) Tag your service with a "Service Type". 
The services you list on your website are each tagged with a "Service Type". This Service Type is not displayed anywhere on your website but provides a tag that helps with search-engine recognition for that service.
To tag each service with a Service Type, search for the service you provide in the box below. Do not worry if you cannot find an exact match between your Custom Service Name and the Service Type, choose the closest match available.
Please note: when you select a Service Type, a default service group name will appear above it. In the case of the services Car Wash and Full Valet - Cars, for example, the service group name is Car Wash. 
2) Add a custom service name. The name of your service goes in the "Service Custom Name" box. This is how the name of the service will appear on your website. In the example below, the service at the business is called "Machine Car Wash".
3) Add price information to each service. 
49% of customers searching for local business information want to know your prices.  It is worthwhile to add price information for each service you list on your website. 
If the service is offered on a quotation-only basis, then select "This service requires a quote."
If the service has a specific price, then indicate the value under "Price" and if needed, add further clarification under "Pricing for". In this example, the business has indicated a service price of £15 per car. In other cases, you may list a price per unit of time (e.g. per hour) or per some other unit.  
4) Add a description to each service.
A service description provides some additional information about what the service is. This helps better inform your customers and aids them in selecting between different services and service providers. If you listed your services when you signed up for a UENI website, we may have proposed some service descriptions to help get you started.
5) Add an image.
Nothing makes your offerings come to life more than with an image of what the service involves. Before and after photographs can also be very effective to display the benefit of a service.
Once you have added your services your page will look like the image below. In this example, the service name is Machine Car Wash.  The cost is £15 per car and we have added a description.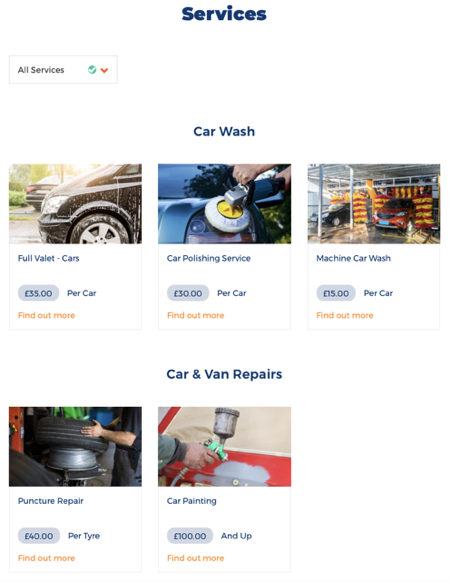 Please note: it is not possible at this time for you to customise the service group name. If you would like to do so, please just email us and we will assist. When contacting us about this, please provide as much detail as possible about the changes you would like to make. 
For example, if you were requesting the layout above you should indicate the information below:  
Service Group:     Car Wash
Services                 Full Valet – Cars
                              Car Polishing Service
                              Machine Car Wash
Service Group:    Car & Van Repairs
Services                Puncture Repair
                             Car Painting
For any questions or if you need assistance, please email help@ueni.com. We are always happy to help.