The Gallery section is a great area of the website where you can showcase your work. You can use this section to present your shop front, your van, your products, before and after photographs. It's really up to you how you would like to customise this space. 
Log into your Business Hub and click on My Website. This will bring you to edit mode of your website.  
In order to add or remove pictures simply click on the Edit Gallery tab.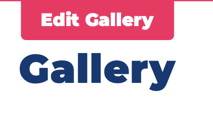 You can then either remove an image by clicking the X on the top right hand side of the image, or add a new image by clicking on the plus sign.
You can upload up to 20 images to the Gallery, but an individual image size is restricted to 25MB.