Log into your Business Hub and click on My Website. This will bring you to edit mode of your website.  
Click the Edit About tab to edit the About Us section.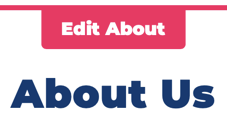 In the About Us section, you can split your content into different sections. Each content section can include text, an image, or both.
You can choose to either edit an existing section, or add a new content section.
Simply add your title and description and upload a picture before clicking Save. 
Your new content will then be displayed as below.